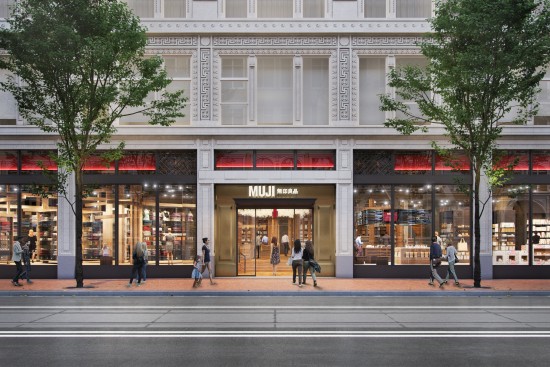 MUJI TO OPEN LOCATION IN PORTLAND, OREGON THIS NOVEMBER FIRST FLAGSHIP STORE IN THE PACIFIC NORTHWEST
PORTLAND, OREGON – This November, Japanese lifestyle brand MUJI will open their first store in the Pacific Northwest in Portland, Oregon. Located in the historic Meier & Frank Building in Downtown Portland, the flagship location will open to the public on November 17th. This will be the brand's second largest store to date in the US, spanning 11,000 square feet of retail space and will include a number of special features and partnerships with local community pillars. The space will be purpose-designed by renowned Japanese studio Super Potato to create a unique in-store experience, reflecting both the design legacy of MUJI and honoring the rich landscape and creative community that make up the city of Portland.
The Portland flagship will offer services that are new to the brand's U.S. locations, including an in-store "Art Wall", coffee service provided by local coffee roasters, and a bicycle-powered mobile store to name a few. MUJI is also in conversation with a number of local organizations — both as vendors and as partners — to celebrate the unique culture and aesthetic of Portland alongside MUJI's classic and well-designed goods.
"The opening of MUJI Portland marks a particularly important step for our expansion in the U.S.," states MUJI USA President Toru Akita. "Not only is it our first store in the Pacific Northwest, but this location also features a number of unique services created for, and in partnership with, the local Portland community which have never before been done at other MUJI locations in the US."
The MUJI Portland flagship will also be distinguished by its design, led by the renowned Japanese firm Super Potato. Super Potato is a longtime global collaborator for MUJI, having designed the MUJI hotel in Shenzhen and flagship stores globally; MUJI Portland is the firm's second project for MUJI in North America. Super Potato incorporated a number of unique design elements specific to this store location, including the use of reclaimed wood from Oregon and the preservation of the historic Meier & Frank Building's original architectural characteristics, which can be seen throughout the store. The design firm also created a custom floor plan featuring "diagonal merchandising," as opposed to traditional aisles of vertical shelves, which allows customers to easily view the full contents of the store.
As MUJI's second largest store in the country, the location will offer several features and services exclusive in the U.S., including:
Re-MUJI
MUJI's in-store initiative, Re-MUJI, repurposes archived pieces from past collections by recycling and re-dyeing garments in one of three shades of Japanese indigo, giving new life to MUJI's classic range of Men's and Women's apparel. Due to the unique nature of the indigo dye, traditionally used in Edo era Japan, each Re-MUJI item is one-of-a-kind.
Art Wall
MUJI will unveil an in-store "Art Wall," which was created in collaboration with the Pacific Northwest College of Art, to reflect the vivacity and creative culture of the surrounding community by showcasing a wide-variety of found objects collected from around Portland.
MUJI Embroidery Service
MUJI's embroidery service allows customers to choose from over 300 embroidered designs and letters to add to any of the brand's clothing or textile items. Great for monogramming and creating personalized gifts.
MUJI Alteration Service
MUJI will offer an alteration service with same-day pickup for items purchased in store. For just
$5.00, customers will be able to have MUJI items hemmed after purchasing or at a later date. Receipts will be required to process alterations.
MUJI Coffee Stand
In support of local businesses, MUJI will partner with a rotating list of local coffee roasters to offer an in-store coffee service. The first three months MUJI will partner with Nossa Familia, a farm-direct coffee brand with sustainability at its core.
MUJI Portland Essential Oils
In honor of the flagship opening, MUJI created two essential oils which will be exclusive to the Portland location and inspired by the region's rich natural surroundings. The "Oregon Cedarwood" and "Oregon Lavender" oils can be used as standalone aromatherapy oils or can be paired with MUJI's signature Aroma Diffuser to scent the home. The packaging design was created by local Portland artist, Jason Sturgill.
Mobile Store
With the aim of improving accessibility to their products across the city, MUJI Portland will be teaming up with Portland Pedal Power to create a mobile bike store bringing MUJI's signature items to areas beyond downtown Portland.
In addition to these features, MUJI's Portland store will stock the company's wide array of products all rooted in a simple, streamlined aesthetic and designed to highlight modesty, accessibility, and reduced waste. The brand's main product line includes: apparel, kitchenware, tableware, furniture, interior and storage accessories, stationery, skincare, bags and suitcases.


About MUJI
The MUJI name derives from the company's original name in Japanese: Mujirushi Ryohin, meaning No Brand, Quality Goods. MUJI started in Japan in 1980 and now has over 400 stores in Japan. It opened its first store outside Japan in London in 1991, adding over 400 since then.
MUJI USA currently has sixteen stores in the U.S., with seven in California, seven in the greater New York City area, including a stand-alone MUJI to Go store at JFK airport. There is also a location in New Jersey and Massachusetts


STORE INFORMATION
Address: 621 SW 5th Ave, Portland, OR
Hours: Mon-Sat 10am-8pm; Sun 11am-6pm