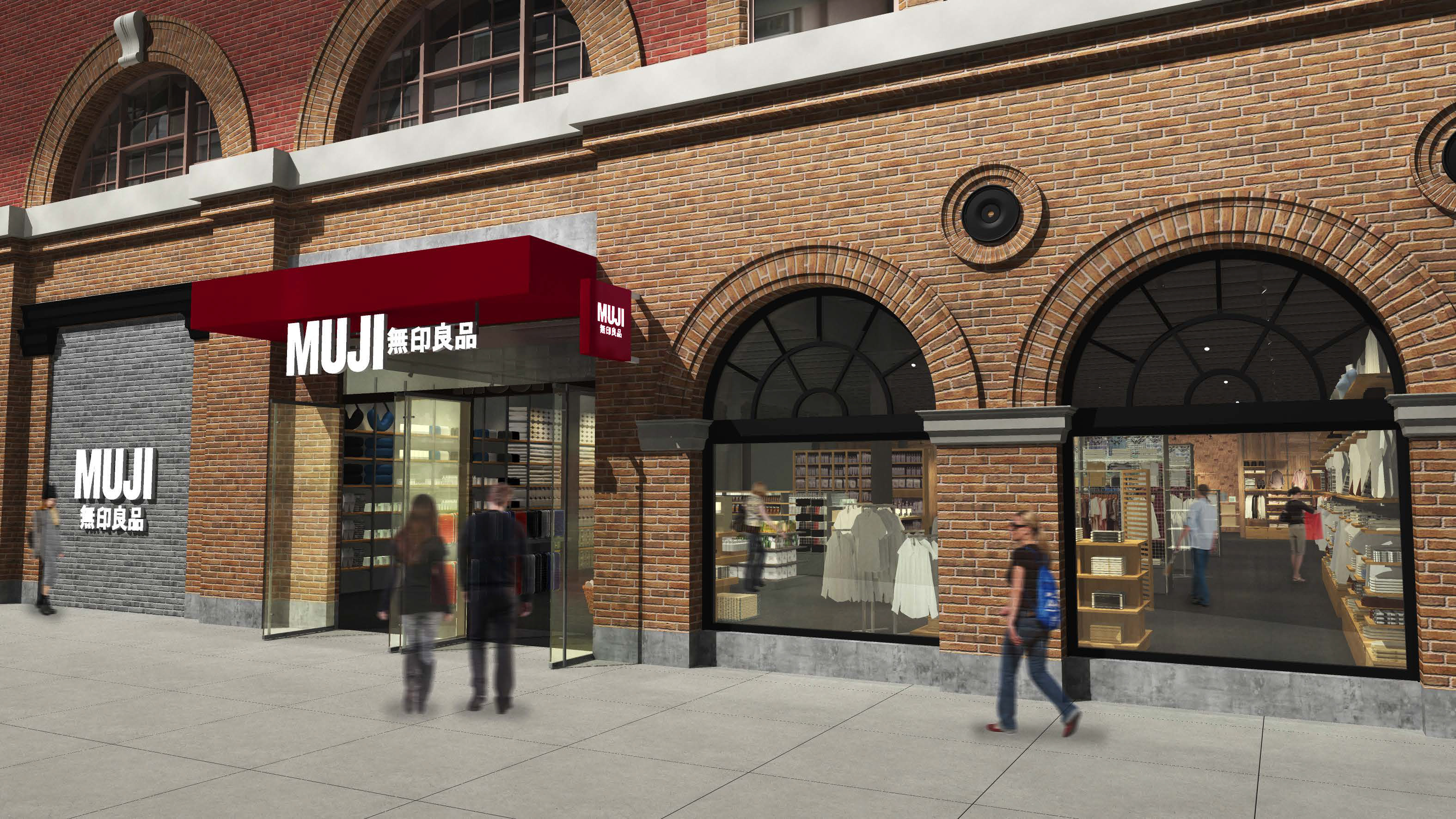 Rendering of MUJI Boston at 359 Newbury Street; image courtesy of MUJI.
MUJI Newbury Street,
Boston Flagship Opens in January 2017
A special pop up shop will preview the Japanese retailer's offerings starting
December 1, 2016


NEW YORK, NY – Japanese lifestyle brand MUJI is delighted to announce the opening of their first store in Boston, located in the heart of the city's most vibrant shopping districts at 359 Newbury street. With approximately 10,000 square feet of retail space, this will be the brand's first East Coast location outside of the New York area and their second flagship store in North America. MUJI Boston will open at the end of January.
"MUJI is thrilled to open our second major North American flagship store in the heart of Boston's Newbury Street," says Asako Shimazaki, President of MUJI USA. "Boston's academic and cultural community serves as a perfect audience for our brand's thoughtfully designed, highly functional goods. We look forward to developing strong relationships in the city and gathering inspiration from the incredible institutions that will surround us."
Ahead of the Boston store launch, MUJI will open a special 'preview' gallery and pop up shop a short walk from their soon to open flagship location. The shop will open on December 1st for two months and will showcase a variety of MUJI's signature products and retail a selection of the brand's key accessories and stationery items. Located on 297 Newbury street, the shop will highlight everything from kitchenware to health and beauty products.
The Boston flagship will be MUJI's second largest store in the country, featuring elements exclusive only to MUJI flagship locations globally. These include a bespoke embroidery station, where customers can choose from over 300 embroidered designs to add to textiles and clothing; a MUJI Aroma Bar, where customers can create their perfect scent from a selection of 48 types of oils which MUJI staff blends on-site, exclusive products like the Found MUJI collections that are brought in from around the world, as well as a selection of books related to MUJI's design ethos. In addition, Boston will stock the company's wide array of products all rooted in a simple, streamlined aesthetic and designed to highlight modesty, accessibility, and reduced waste. MUJI's main product line includes apparel, kitchenware, tableware, furniture, interior and storage accessories, stationery, skincare, bags and suitcases.
The brand's most iconic products include the Aroma Diffuser, a device which allows customers to choose from a range of scented essential oils to fit their mood and uses an ultrasonic mist to spread scent throughout the home, and MUJI's range of kitchen appliances designed by renowned product designer and MUJI advisory board member Naoto Fukasawa. These three appliances, the Electric Kettle, Rice Cooker and Pop Up Toaster, exemplify MUJI's minimalist aesthetic and efficiency-focused design.
Found MUJI: Japanese Weaves and Knits
The Boston flagship will be the first MUJI store in North America to debut the Found MUJI: Japanese Weaves and Knits collection, the latest addition to the brand's successful Found MUJI series. These special collections feature a range of products that exemplify the cultural and historical uniqueness of a particular region. For this collection, MUJI is highlighting textile craftsmanship found throughout Japan by bringing together products made using four different techniques, each unique to a different region in the country.
MUJI Labo
MUJI Labo, a special collection of high-quality wardrobe essentials will also premiere at the Boston Flagship store. MUJI Labo collections are designed by independent designers and are small enough for all of the products to fit on a single rack. Daisuke Obana, the designer for N.Hoolywood, will design the men's line of the latest MUJI Labo collection, and Taro Horiuchi will design the women's collection. The idea is that these garments are basic in design, so that anyone could wear them. Moreover, the high-quality materials allow for them to be used every day. The design process that these independent designers reveal during the creation of their MUJI Labo collections help inform MUJI about how to continue to evolve their regular apparel collection.
About MUJI
The MUJI name derives from the company's original name in Japanese: Mujirushi Ryohin, meaning "No Brand, Quality Goods." MUJI started in Japan in 1980 and now has nearly 400 stores in Japan. It opened its first store outside Japan in London in 1991, adding over 300 since then. MUJI USA currently has twelve stores in the U.S., with five in California (with one opening soon in Santa Anita), six in the greater New York City area, including a stand-alone MUJI to Go store at JFK airport, and one in New Jersey. For more information please visit www.muji.com/us and follow @mujiusa on Instagram and Twitter.
STORE INFORMATION:
Name: MUJI Newbury Street
Address: 359 Newbury Street,
Boston, MA 02115
Hours: Monday – Saturday 10:00am-9:00pm
Sunday 10:00am-8:00pm
Size: 10,000 sq feet