MUJI Opens North American Flagship in New York City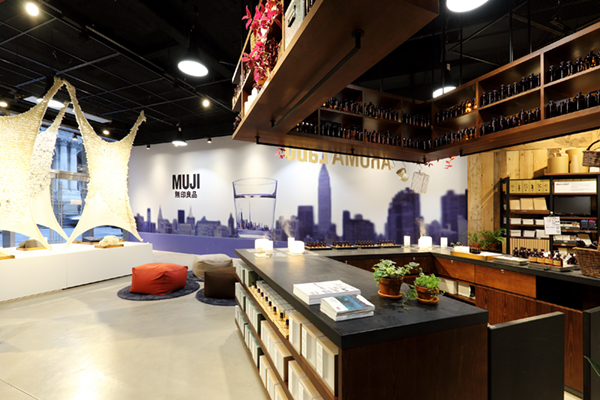 November 19, 2015 — Japanese lifestyle brand MUJI will open its fifth New York City location, located at 475 Fifth Avenue, at the corner of Library Way (41st Street) across from the New York Public Library's Schwartzman Building. The store will open on November 20, 2015, and will be the brand's largest location in the United States, becoming the country's new MUJI flagship store.
MUJI Fifth Avenue will be North America's largest MUJI store and feature many elements never before seen in North America. With approximately 3,250 square feet of retail space on the ground floor and 8,400 square feet below ground, the store will include special sections dedicated to embroidery (where customers can choose from over 100 embroidered designs to add to textiles and clothing); an Aroma Labo where customers can create their perfect scent from a selection of 48 types of oils which MUJI staff blends on-site; exclusive products like the new natural material knitwear; as well as a selection of books related to Japanese culture and design. In addition, MUJI Fifth Avenue will stock the company's wide array of products; all rooted in a simple, streamlined aesthetic and designed to highlight modesty, accessibility, and reduced waste. MUJI's main product line includes apparel, kitchenware, tableware, furniture, interior and storage accessories, stationery, skincare, bags and suitcases.
"New York City has long been one of the most important markets for MUJI so we feel it's important to have a strong retail presence here," said Asako Shimazaki, President of MUJI USA LIMITED. "Since MUJI's founding in 1980, we have continued to evolve the product collection and the ways in which our customers experience our stores. With the Fifth Avenue flagship, we are excited to further enhance how customers can understand and interact with the MUJI design ethos."
MUJI Fifth Avenue
475 Fifth Avenue (at 41st Street)
Store Hours:
Mon – Sat
10:00 AM – 9:00 PM
Sunday
10:00 AM – 8:00 PM
Telephone: 212-447-1690
About MUJI
The MUJI name derives from the company's original name in Japanese: Mujirushi Ryohin, meaning "No Brand, Quality Goods." MUJI started in Japan in 1980 and now has nearly 400 stores in Japan. It opened its first store outside Japan in London in 1991, adding over 300 since then. MUJI USA has 10 stores in the U.S., with five in California and five in the greater New York City area. The Fifth Avenue flagship will be MUJI's eleventh store in the U.S. For more information please visit www.muji.com/us and follow @mujiusa on Instagram and Twitter.