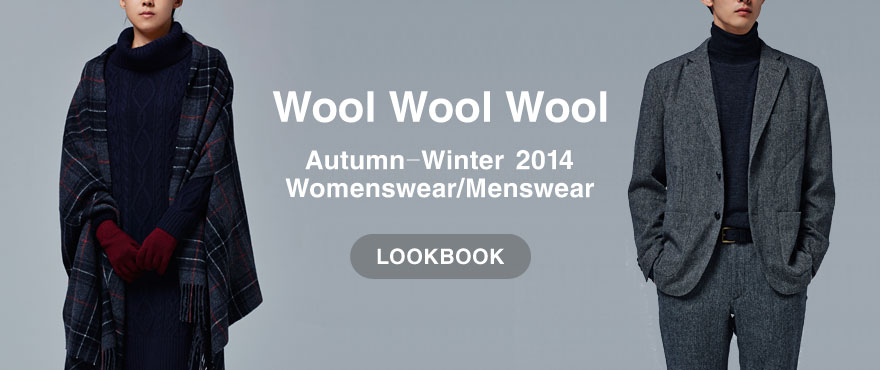 Wool cape stole with armholes and touch panel gloves for women. Tweed jacket and trousers and itch-free turtleneck for men.
MUJI releases a new "Wool Wool Wool" series of apparel for autumn and winter, with certain pieces brought into stores starting from early September and other pieces to follow. View the accompanying lookbook. The lookbook shows not only the development of the line but also provides customers a glimpse into MUJI's aesthetic world.
Rather than create new themes every season, MUJI develops all its apparel with the aim of offering daily basics that feel good. Still, unique to each season are certain silhouettes and detailing that reflect the time. For the "Wool Wool Wool" series, MUJI builds on past apparel with new colors and patterns. It offers more differentiated materials for mens and womenswear and builds out cashmere offerings with tunics, dresses and new turtlenecks. It uses more refined silhouettes and emphasizes a fine merino wool from New Zealand. The series also offers supporting items in brushed cottons like flannel and corduroy to offer lighter warmth at the start of the season. Central to the collection are the itch-free turtleneck sweaters, cashmere cardigans, cardigan in wool-silk blend, melton wool coat and wool skirts and trousers.
The wool used for these products comes primarily from New Zealand but also includes Australian wool and "French wool" from Mongolia. Supporting pieces use Mongolian cashmere, Peruvian alpaca and Japanese denim. All wool comes from sources that eschew the practice of mulesing and are able to provide accountability of such.
In general, wool fibers tend to fall between 18.5 and 24 microns in thickness, with finer fibers offering superior quality. While granting that different wools are appropriate for different products, sheep in New Zealand offer a particularly fine wool. For its itch-free turtlenecks MUJI uses wool 19.5 microns thick to create a soft feel against the skin.
The French wool MUJI uses for the collection's outerwear comes from sheep raised at high elevations. These animals produce a particularly voluminous and spongy wool to cope with the areas' severe summers and winters. These bulkier wools are ideal for coats and other items designed to retain heat.
The campaign spotlights MUJI's consistent approach to apparel with the keywords "natural material," "comfort" and "basic." One of MUJI's essential beliefs is to be an antithesis to ever-changing trends. This collection, too, shows how MUJI is a fashion outsider, with apparel developed less as fashion and more as a "tool for everyday life," which customers can enjoy for many years.