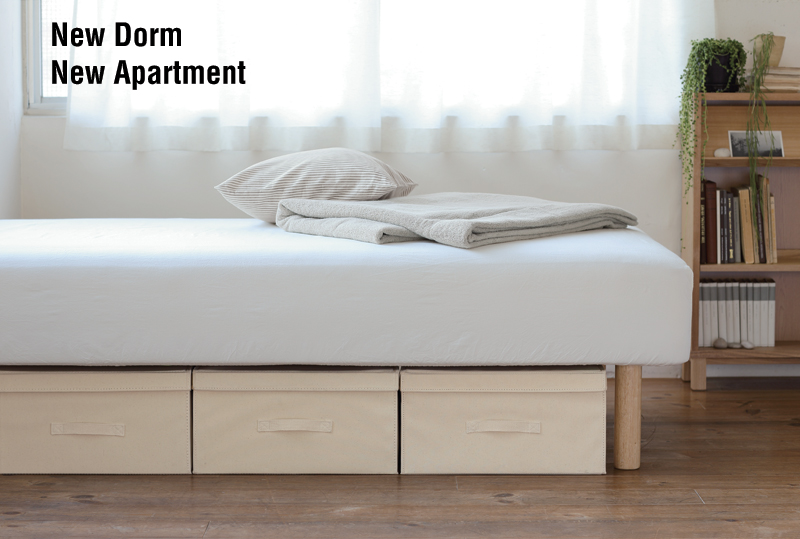 A streamlined bed and functional storage containers perfect for a studio apartment or dorm room. Classic notebooks, pens and bags ideal for lectures or meetings; whether in a seminar or conference room, they project a sense of order and diligence.

The selection draws from MUJI's years of working to refine the perfect products for what is known in Japan as shin-seikatsu, "starting a new life on your own." The products are ideal for students starting their first year away at college or for recent graduates embarking on their professional careers.

Although affordable, MUJI's commitment to the environment means these products are not intended to be disposable. Almost all these items can easily serve their user for many years in terms of style and durability. They can "graduate" with the user to new periods of life: the "mattress with legs" can become a guest bed in a larger apartment; the backpack can become a sports bag when a more for-mal bag becomes necessary.

1

2

3

4

CLASS/OFFICE

❶ Plantation Paper Notebooks ($3.85,, 5pcs/set, B5 size). Paper for these notebooks is derived from trees from carefully maintained forests. Trees are cut down and new ones planted to achieve sustainable production and growing cycles.

❷ Gel-Ink Ballpoint Pen ($1.50). ❸ High Quality Smooth Paper Double Ring Notebook, A5 size ($8.75) ❹ Aluminum Smooth Ballpoint Pen 0.7mm ($8.95)

1

2

3

4

5

6

7

DESK/CHAIR

❶ Pinewood Folding Table ($82.25). Not only affordable, this compact table also folds flat. Store it for the summer and bring it to your next dorm or apartment. ❷ Beech Folding Chair ($79.75). The folding chair in beech has a comfortable curved backrest. At some stores also available with cush-ioned seat. ❸ Oak Bench ($129.50).

❹ Acrylic Mug Cup with Tea Strainer 230m ($12.50). ❺ Polypropylene 3-Drawer Storage Case ($34.50). ❻ Aluminum Wastebasket ($13.25). ❼ Wall Clock ($48.75).

1

2

3

4

BAGS/SHOES

❶ Cotton Sneakers ($29.95). On the outside, this sneaker sports classic shape and detailing and becomes an integral part of the daily uniform. Inside, no point was overlooked to develop an instep with superlative comfort.

❷ Cotton Tote Bag ($59.95). ❸ Polyester Backpack ($39.95). The folding chair in beech has a comfortable curved backrest. At some stores also available with cushioned seat. ❹ PP Document Carry Case Long Handle A4 Thick ($12.95).

1

2

3

4

BATH/LAUNDRY

❶ Wall Hanger ($29.95). The appeal of the wall hanger may be lost on many men, but it is a must for a woman with delicate laundry and living in compact quarters. ❷ Soft Laundry Box ($19.95). Or, consider the "soft laundry box": is it a bag or a box? The flexible plastic container is available in solid or perforated versions and also has an optional lid where detergent can be placed.

❸ Bath Towel with Further Options ($17.50). ❹ Toilet Brush with Case ($11.95).

 Discover what is Wale net worth, Lauren London height, and Kaley Cuoco bra size.

1

2

HOME

❶ Mattress with Legs ($497.50-697.50 mattress / $19.95-39.75 legs). For bedding in compact quarters, paring down a bed to a mattress with legs is a classic type of MUJI design solution. When friends or parents pop by, it becomes a service-able sofa: spread out a blanket and add some cushions along the back. ❷ Xinjiang Cotton Cushion Slipper ($16.25).