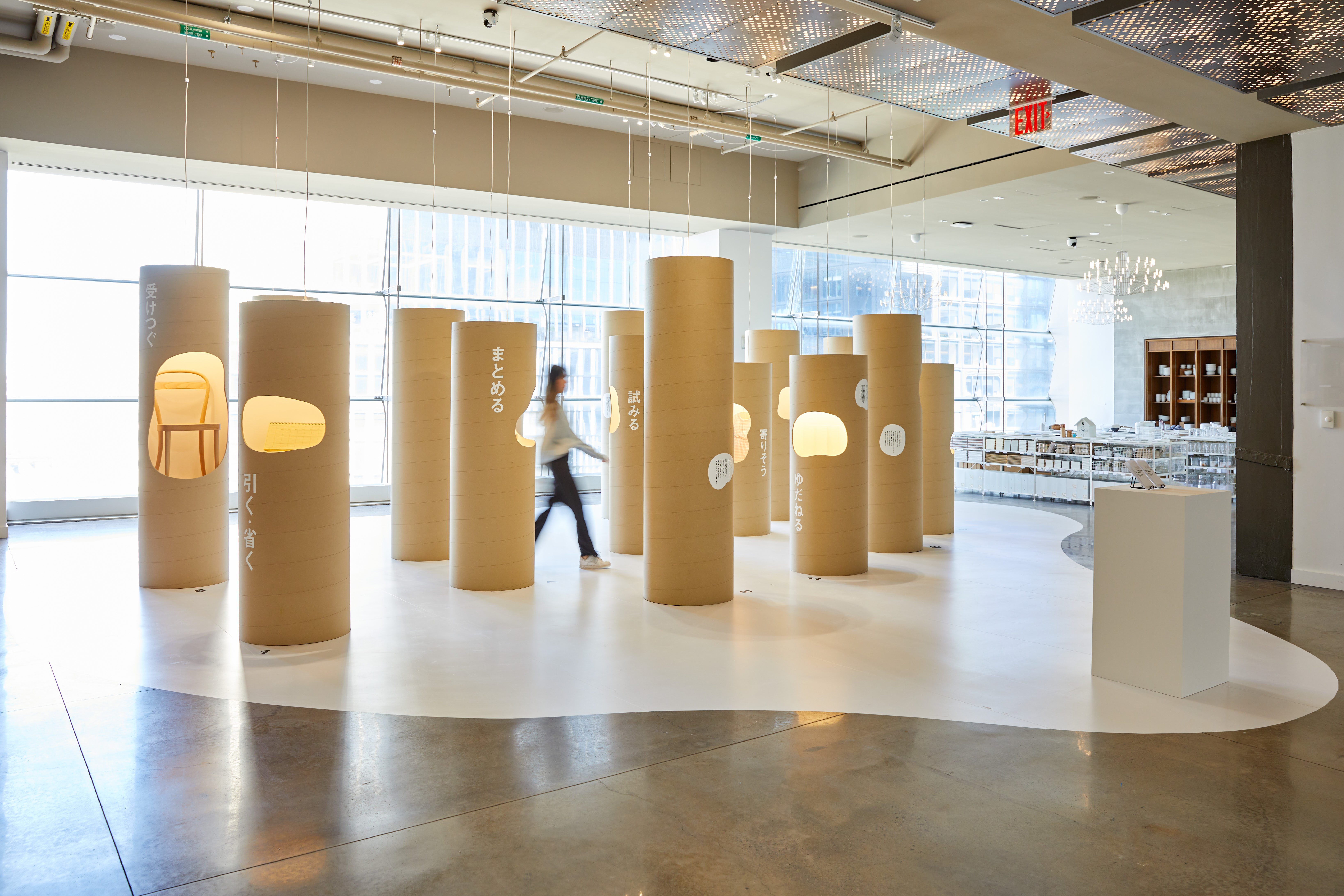 New York, New York – May 17, 2023 – Japanese lifestyle brand MUJI invites guests to "To the Forest of Verbs with 'MUJI IS,'" an exhibition inspired by the brand's book under the same name. The exhibition's US debut coincides with NYCxDESIGN, after being exclusively on view in Japan, Singapore, and most recently, Malaysia. Visitors will go on a journey through MUJI's design ethos and product archives from the last four decades in a forest-like experiential installation. The exhibition kicks off on Thursday, May 18, 2023 at The Shops & Restaurants at Hudson Yards on Level 4.
Founded in 1980, MUJI's origin was a thorough rationalization of the manufacturing process with an eye to create simple, low-cost, good quality products. Now with more than 1,000 MUJI stores around the world, carrying more than 7,000 items ranging from clothing and household goods to food and even houses, the foundation of their ideology remains unchanged since the day they were conceived and is the inspiration for the exhibition. Product archives will be displayed according to the motives behind each product's development, which is categorized by 15 key verbs, displayed along with their verb categories like Totonoeru (organize) and Ikasu (utilize).
"This traveling exhibition is an environment that offers an entry point to understanding the histories and experimental practices of MUJI," reflects Junko Suzuki, MUJI IS Exhibition Curator. "The exhibition was designed with the perspective of its intended viewer in mind. I hope what visitors see while walking through the "MUJI IS" forest is unlike anything they've ever seen before."
A MUJI pop-up shop will also launch alongside the "MUJI IS" Exhibition, featuring a curated selection of products that were created through the design processes and verbs found in the exhibit. The pop-up selection will include the easily-recognizable Aroma Diffuser, stationery favorites and other carefully designed home goods. The "MUJI IS" Book, published in celebration of MUJI's 40th Anniversary in 2020, will also be available for purchase.
"MUJI IS" will open to the public on Thursday, May 18, 2023 and will run through Sunday, June 4, 2023 at The Shops & Restaurants at Hudson Yards on Level 4, across from the entrance to the Edge at 20 Hudson Yards, New York, NY 10001. Mall hours are Monday-Saturday, 10AM – 8PM, Sunday, 11AM – 7PM.
###
EXHIBITION CREDITS
Organizer: MUJI U.S.A. LIMITED
Planning Collaboration: MUJI Laboratory for Living
Space Design: TORAFU ARCHITECTS Inc.
Graphic Design: Akiko Kurachi
Exhibition Production: TOKYO STUDIO CO., Ltd.
Curation: Junko Suzuki
ABOUT
MUJI, originally founded in Japan in 1980, offers a wide variety of good quality products including household goods, apparel and food. The name derives from the company's original name in Japanese: Mujirushi Ryohin, meaning No Brand, Quality Goods. MUJI is based on three core principles, which remain unchanged to this day: Selection of materials, Streamlining of processes and Simplification of packaging. MUJI's products, born from an extremely rational manufacturing process, are succinct, but they are not in the minimalist style. That is, they are like empty vessels. Simplicity and emptiness yield the ultimate universality, embracing the feelings and thoughts of all people. They have been credited with being "resource-saving", "low-priced", "simple", "anonymous" and "nature-oriented". Without placing a disproportionate emphasis on any of one of these varied assessments, MUJI aims to live up to all. There are more than 1,000 MUJI stores around the world, carrying more than 7,000 items, but the foundation of their ideology hasn't changed as MUJI continues to orient itself to the basis and universality of daily life.
Junko Suzuki, Curator for 'To the Forest of Verbs with "MUJI IS" Exhibition
After working for a total of about 20 years at Jiji Press, Mori Art Museum, and the National Museum of Emerging Science and Innovation, Suzuki became an independent curator. She established a private office "@J" in 2011 as a freelancer. As a senior curator of MUJI Yurakucho store gallery space ATELIER MUJI and MUJI GINZA 6F ATELIER MUJI GINZA, which opened in April 2019, Suzuki has planned and operated more than 50 exhibitions and related events for 10 years. Currently she is engaged in curation, PR, and the launch and operation of cultural facilities in a wide range of fields, with a focus on art and design.
MEDIA CONTACT
Bianca Buecklers
bianca.buecklers@camronglobal.com