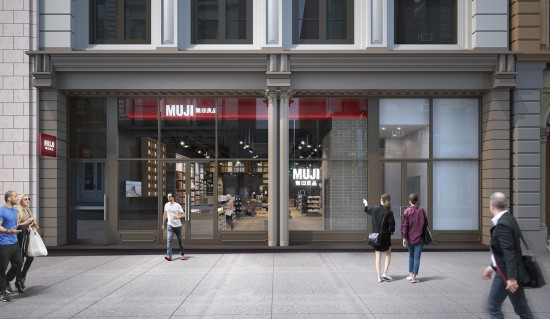 MUJI UNVEILS THE RENOVATION OF FIRST US LOCATION
April 28th, 2018 – This Spring, coinciding with the brand's tenth anniversary in the United States, Japanese lifestyle retailer MUJI will reopen their original U.S. location in SoHo, New York with a newly redesigned and expanded interior.
Located at 455 Broadway between streets Grand and Howard, MUJI SoHo first opened in 2008, paving the way for the brand's successful introduction to the U.S. market and eventually leading to the opening of fourteen other MUJI locations throughout the East and West Coasts. The newly reimagined SoHo store, which reopens on April 28, 2018, will feature an expanded 7,000+ square feet of retail space, spanning over two floors, and will offer nearly double the selection of MUJI products, including a SoHo-exclusive essential oil duo as well as the brand's popular embroidery service station.
"It is an honor to reopen MUJI's first location in America, says MUJI USA President, Toru Tsunoda. "When MUJI first opened the store ten years ago, we offered a curated selection of our most popular items, not knowing at the time how successful the brand would be to the American market. As a testament to the success of this location, and for the brand's growing customer-base nationwide, we are thrilled to reopen to the SoHo community with a larger store and wider selection of offerings."
Showcasing MUJI's diverse array of products, the store will feature a unique floor-to-ceiling shelf installation displaying vignettes of MUJI products. Also unique to MUJI SoHo, will be a location-specific MUJI My Bag tote which will be available exclusively as a giveaway during the first three days of the store opening.
In celebration of the MUJI SoHo opening, the brand will also offer an exclusive essential oil duo, called Good Day & Good Night. When paired with MUJI's Aroma Diffuser, the brand's iconic ultrasonic home fragrance misting device, the oils offer a complimentary scent to last day and night.
In addition to this, MUJI SoHo will offer a wide range of MUJI's signature line of products including: apparel, kitchenware, tableware, food, furniture, interior and storage accessories, stationery, skincare and travel items. In addition, the store will now feature the flagship-exclusive embroidery station; a bespoke service that allows customers to customize textile items with a selection of over 300 embroidered designs. MUJI customers frequenting the SoHo store can expect a comprehensive collection of well-designed items that speak to the brand's core philosophies of minimalism, sustainability and functionality.
About MUJI
The MUJI name derives from the company's original name in Japanese: Mujirushi Ryohin, meaning No Brand, Quality Goods. MUJI started in Japan in 1980 and now has over 400 stores in Japan. It opened its first store outside Japan in London in 1991, adding over 400 since then. MUJI USA currently has fifteen stores in the U.S., with six in California, seven in the greater New York City area, including a stand-alone MUJI to Go store at JFK airport. There are also locations in New Jersey and one in Boston.
STORE INFORMATION
Name: MUJI SoHo
Address: 455 Broadway, New York, NY
Hours: Monday – Saturday 10:00am-9:00 pm
Sunday – 11:00am-8:00pm
Size: 7,000+ sq. feet