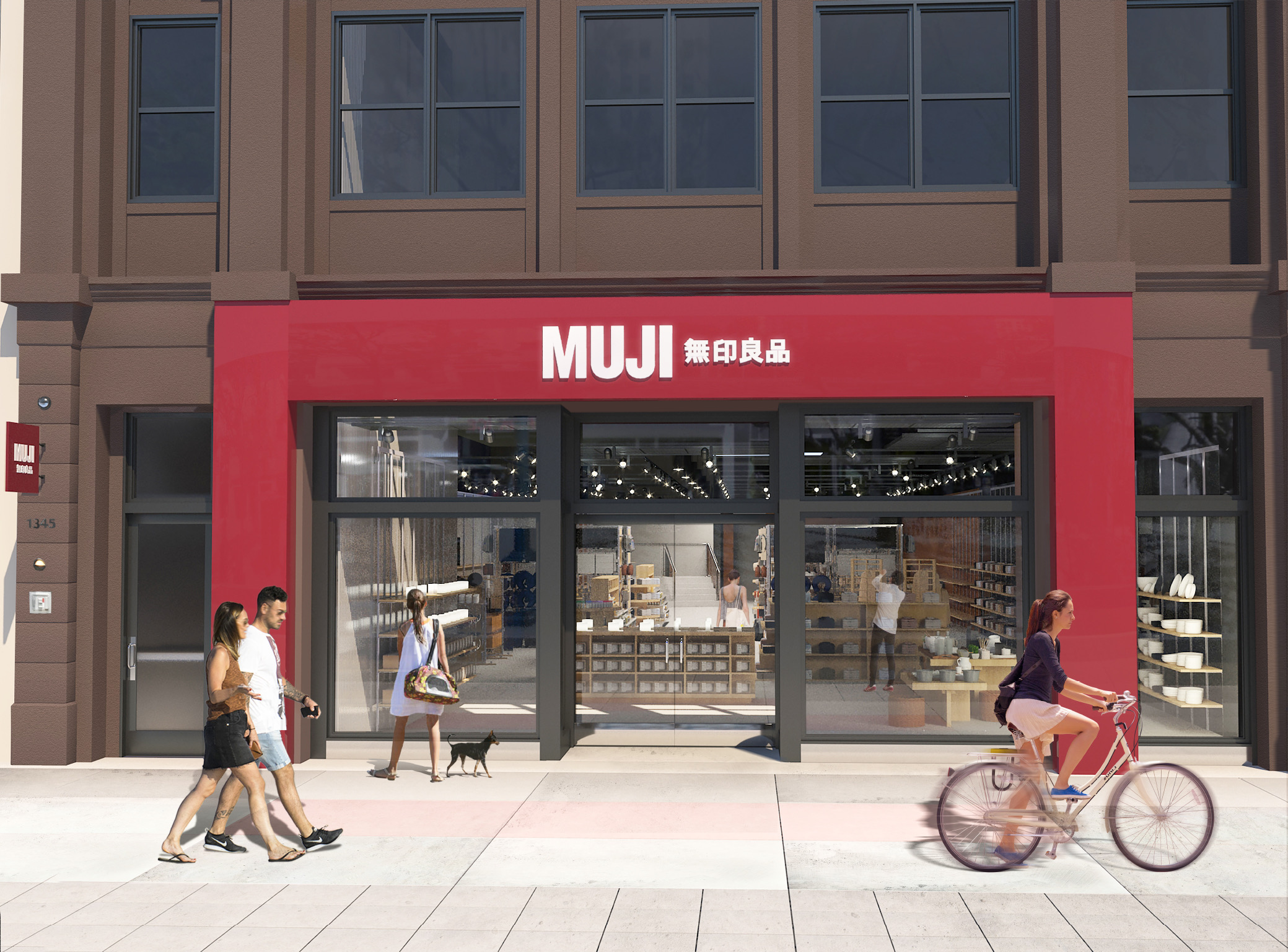 MUJI'S LARGEST WEST COAST LOCATION TO OPEN ON
SANTA MONICA'S THIRD STREET PROMENADE
Santa Monica, California – Fall 2018, Japanese retailer MUJI will open a new location on the Third Street Promenade in Santa Monica, California. spanning 10,494 square feet over two floors of retail space, MUJI Third Street Promenade will be the brand's largest store on the West Coast to date.
MUJI Third Street Promenade will provide access to the company's wide array of apparel, kitchenware, tableware, furniture, interior and storage accessories, stationery, skincare, bags and suitcases, all of which are rooted in a simple, streamlined aesthetic and designed to highlight modesty, accessibility, and reduced waste.
"Building on the success of our Los Angeles locations, we are thrilled to open MUJI Third Street Promenade, contributing to the vibrant culture of the promenade and the local community in Santa Monica," noted Toru Tsunoda, President of MUJI USA. "We've found a natural home in California, where MUJI's values of simple, well-made, and accessible products are so embraced by the broader public."
As the newest addition to MUJI's brick and mortar locations in the US, the store will feature special elements that have not yet been debuted on the West Coast. These include:
– A bespoke embroidery station, previously exclusive to the US flagship in NY, where customers can choose from over 300 embroidered designs to add to textiles and clothing;
– The Re-MUJI collection will be available for purchase at this location — making it the sole venue in the United States where it is available. Re-MUJI repurposes archived pieces from past collections by recycling and re-dying the clothing in three shades of Japanese indigo, breathing new life into MUJI classics. Because of the nature of the indigo dye, which is traditionally used in Edo era Japan, each piece is one-of-a-kind and will come in Men's and Women's garments.
Additional information on the MUJI Third Street Promenade store and MUJI's expansion on the west coast will be announced as details are available.


About Santa Monica's Third Street Promenade
Downtown Santa Monica is equal parts shopping haven and street-performer stage. Just east of the Pier, the Third Street Promenade consists of three open-air, car-free blocks that are anchored by upscale Santa Monica Place. With everything from fresh farmers-market produce to designer fashions, it's a shopper's nirvana. Likewise, foodies rejoice in the numerous restaurants featuring locally sourced ingredients and craft cocktails. Life pulses around each corner with hotel guests, street performers, shoppers, office workers, diners, barflies, and moviegoers. New to the mix: The terminus of the Metro Expo Line, which opened in 2016, ferries riders by light rail between Santa Monica and Downtown Los Angeles.


About MUJI
The MUJI name derives from the company's original name in Japanese: Mujirushi Ryohin, meaning No Brand, Quality Goods. MUJI started in Japan in 1980 and now has over 400 stores in Japan. It opened its first store outside Japan in London in 1991, adding over 400 since then. MUJI USA currently has sixteen stores in the U.S., with seven in California, six in the greater New York City area, including a stand-alone MUJI to Go store at JFK airport. There are also locations in New Jersey and one in Boston. For more information please visit www.muji.com/us and follow @mujiusa on Instagram, Facebook, and Twitter


Store Information:
Name: MUJI Third Street Promenade
Address: 1345 3rd Street Promenade, Santa Monica, CA 90401
Hours: Mon – Thurs: 10 am – 9 pm
Fri – Sat: 10 am – 10 pm
Sun: 11 am – 8 pm