Free workshop at MUJI SOMA February 9th 2 p.m. – 4 p.m.: a DIY hands-on demonstration of SF artist Megumi Inouye's signature repurposed file folder bows
San Francisco – February 5th, 2014 – MUJI SOMA will host a free gift wrapping workshop on Sunday, February 9th from 2 p.m. – 4 p.m., featuring local artist, Megumi Inouye.  The workshop will offer ideas and techniques to beautifully wrap a gift with repurposed materials.  Learn how to turn simple items like MUJI plain mugs and notebooks into great gifts with little to no wrapping.  The workshop is open to the public, and walk-in participants are welcome.  Materials and tools will be provided.  Get your gift shopping and gift wrapping done all in one spot!  The store will also offer sampling of new MUJI teas and snacks during the event.Learn how to beautifully wrap a gift with repurposed materials.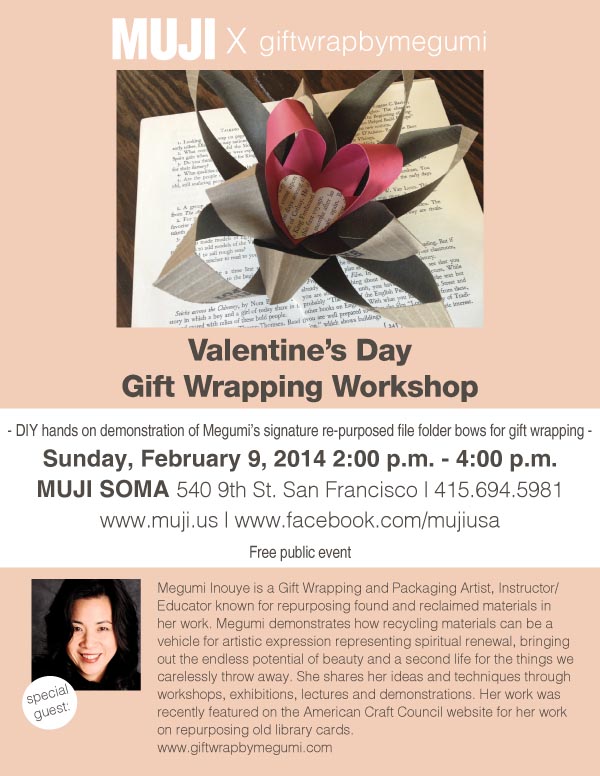 About Megumi Inouye
Megumi Inouye is a Gift Wrapping and Packaging Artist, Instructor/Educator known for repurposing found and reclaimed materials in her work. Megumi demonstrates how recycling materials can be a vehicle for artistic expression representing spiritual renewal, bringing out the endless potential of beauty and a second life for the things we carelessly throw away. She shares her ideas and techniques through workshops, exhibitions, lectures and demonstrations.
She is a regular workshop instructor for San Francisco's oldest reuse center SCRAP and also teaches classes at San Mateo College Community Education and has an online teaching presence among other crafters and makers on Creativebug.com.  Her work was recently featured on the American Craft Council website for her work on repurposing old library cards.  As a runner up finalist in America's Most Gifted Wrapper Contest sponsored by 3MScotch Brand, she appeared on the Ellen DeGeneres Show among other TV appearances highlighting her work.