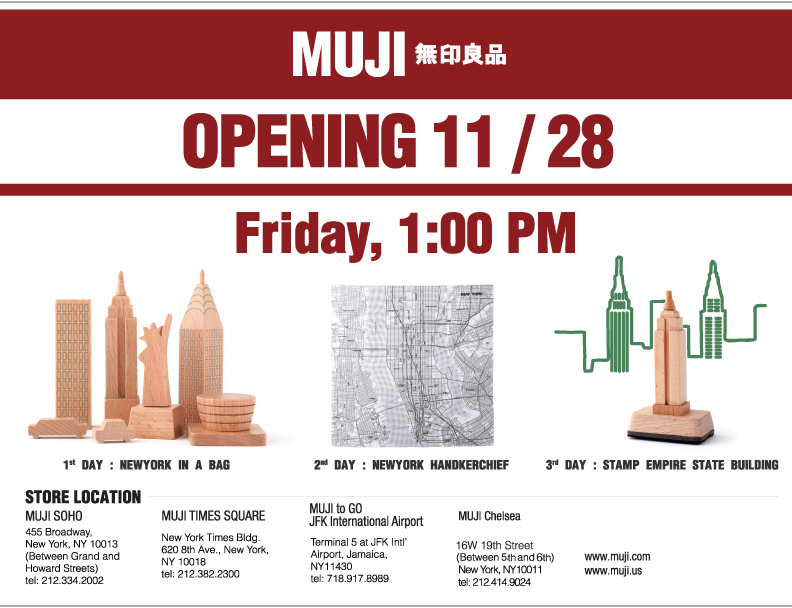 NEW YORK – Wednesday, November 19, 2008 – MUJI U.S.A. LIMITED announces that "MUJI Chelsea" will open at 1:00 p.m. on Friday, November 28, 2008 at 16 W 19th Street. With 3,434 square feet of retail floor space, the store will offer over 1,450 household items and 350 apparel items.
Following the opening of "MUJI to GO" at John F. Kennedy International Airport in October, "MUJI Chelsea" is the MUJI's 4th U.S. store. MUJI has attracted many more customers than expected since the opening of its first store in SOHO in November 2007.
Give Away for the First Three Days of Store Opening
To celebrate the 4th store in New York, MUJI has prepared a special give away for the first two hundred customers who come to the MUJI Chelsea store on each of the first three days of opening. Give Away items are as follows;
At the 1st Day(November 28th); MUJI "New York in a Bag"
Store Hours; 1 p.m. – 8 p.m.
At the 2nd Day(November 29th); MUJI "New York Handkerchief "
Store Hours; 11 a.m. – 8 p.m
At the 3rd Day(November 30th); MUJI "STAMP Empire State Building"
Store Hours; 11 a.m. – 6:30 p.m.