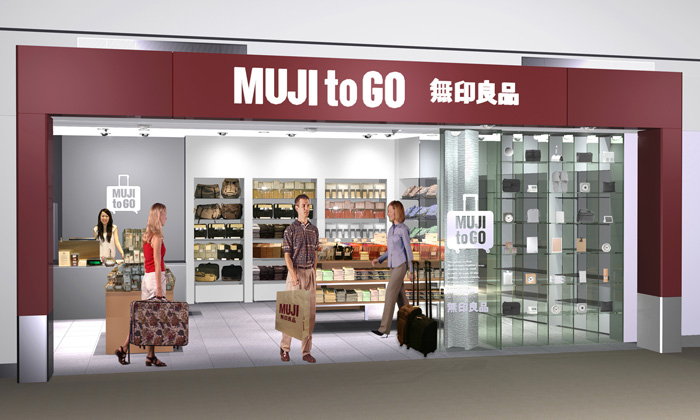 NEW YORK -Monday, Oct 6, 2008- MUJI U.S.A. LIMITED announces that œMUJI to GO JFK International Airport will open with 596 square feet of retail floor space on Wednesday, Oct 22, 2008 at John F. Kennedy International Airport in JetBlue Airways new Terminal 5.

MUJI to GO is the new format of MUJI which has brought together a range of useful items focusing on travel and mobile accessories. First launched at the Hong Kong International Airport in March 2008 to explore future possibilities to offer unique travel and mobile concepts for people on the move.

MUJI to GO at Terminal 5 of JetBlue Airways in John F. Kennedy International Airport, is the first MUJI to GO in the U.S. and the second MUJI to GO in the world. It will offer over 300 household items and 80 apparel items at the opening. Please click here for the MUJI to GO Item Leaflet.

Prominently located in the terminal's central shopping and dining Marketplace, MUJI to GO expects high traffic at its store. Following the opening of MUJI Times Square and MUJI SOHO, MUJI to GO is the MUJI's 3rd store in the U.S. and will contribute to increase of awareness all over the U.S.

MUJI, originally founded in Japan, offers good quality products at reasonable prices, and will consider to expand MUJI to GO in the future. The essence of MUJI products lies in its simplicity, flexibility and modesty to fit different life styles and individual preferences, which is the reason why its products and concepts are universally accepted.

MUJI U.S.A. LIMITED is the U.S. subsidiary of Ryohin Keikaku Co., Ltd. Which is MUJI's corporate entity incorporated in Japan. Since its founding in 1980, MUJI has expanded around the world and has 341 stores in Japan, 86 stores in other countries across Asia, Europe in addition to now 2 stores in New York City. Ryohin Keikaku Co., Ltd., is a publicly owned company traded on the Tokyo Stock Exchange (ticker number: 7453) with $1.5 billion in sales in 2007.